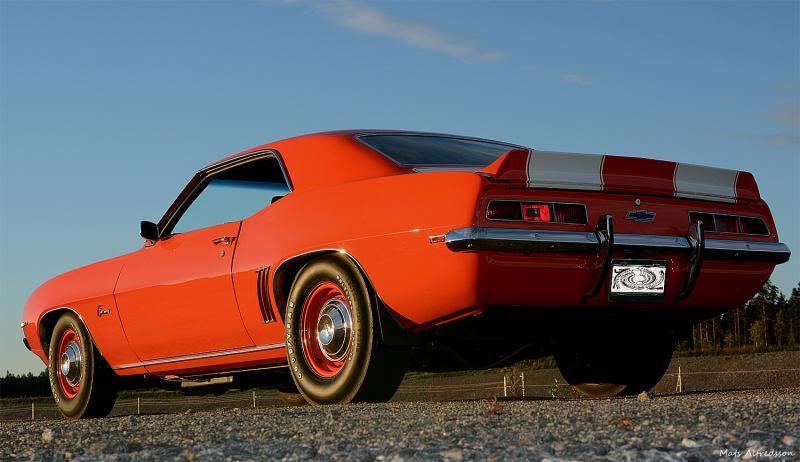 My first memory of a Camaro is from when I was 4 years old. My aunt was dating the lead singer in the famous (in Sweden anyway) dance band Max Fenders. He was a die-hard car nut and according to what he has told me, he bought a new Camaro every year, from 1967 to 1972. All the cars were loaded with extra equipment, the one below even had a TV!
Se this car below:
In the summer of 1969, my aunt was allowed to borrow the car to meet her parents in the community called Burträsk, also known as BurnOutCity where Swedish top fuel driver Monica Öberg lived, and to do some work on her parent´s farm. Me and my mother joined her to keep her company. Even back then, the car turned heads in my hometown Umeå. I was sitting in the back seat, turned backwards to enjoy all the jealous looks we got from the crowd, and to make it clear that I was truly royalty, riding in a roaring race car like that.
When we passed through Norra Åbyn, an even smaller village where my grandparents lived, all the farm equipment and horses came to a standstill when we majestically cruised down the gravel road. The feeling and the sound of the four (4) exhaust pipes was permanently etched into my mind, something that later made me buy this dream car of mine.
The Camaro I rode in back in 1969 was a Hugger Orange, 350, RS/SS convertible, equipped with a black-and-white TV set, double power antennas on the rear quarter panels, power windows, hideaway headlights etc. On top of that, an extra engine was ordered, probably a 454, built and tuned in the US. According to one of the previous owners, it was powerful enough to break the original driveshaft one day when he leaned on it too hard. I was told about all this much later, my childhood memories only picture it as Hugger Orange with TV and power windows. This car is still alive in the northern part of Sweden. I wonder what happaenend to the TV?
Back to my own -69 Camaro: I found it on eBay, fall of 2005. Se pics from the ad below:
I soon realized that it wasn´t just my dream car, there were obviously other people dreaming of the same car as the cars I found on eBay and other places were not exactly cheap. I didn´t want to buy a project car, I was looking for a decent driver that I wouldn´t have to do to much to. Meanwhile, I stumbled upon a Swedish company called Door2Door Car Broker, www.door2door.se , owned by Anders Dahlgren. This company specializes in finding cars in the US, and bringing them to their customers in Sweden.
Finally, the "right" ad was found and after some negotiation, we (me and Anders) were able to make the seller cancel his auction, something you´re obviously allowed to do in the US. That way, we were able to avoid the last-minute hysteria with the price going through the roof. Anders took care of the contact with the seller, and went to the US to look at the car before the deal was closed. Before that, we had received a generous amount of digital pictures. Of course, Anders took the opportunity to look at other cars while he was over there, so he was suffering from a bad case of sleep depravation and jet lag when he finally came back to Sweden. Here´s a pic of the seller Scott from Waterloo, Illinios:
After all this, I spent an eternity in limbo while the car was in transit to Sweden. Anders handled all the red tape, such as shipping, customs fees, sales tax and all the good stuff that comes with a transaction like this. The car was bought the 20th of September 2005 in Waterloo, Illinois, and arrived in Gothenburg, Sweden the 8th of November 2005. The car was then transported by train, and finally arrived in Umeå the 14th of November, 2005. And where was I? Attending a course through my work in Stockholm!
I knew that this would happen, so I contacted a Nova-freak I know, and he assisted me without hesitation and got the car off the train and hauled it to the safe haven of my garage. After another week, I was finally able to get acquainted with the new family member. The pictures below show the car, still with US dust on it.
With the car, I also got this mean looking toy, which is radio controlled and makes a cool engine noise. My 4-year old son loves it! 
I also got a fitted cover from California Car Cover to go with the car. I asked the previous owner to leave the HGGER69 license plate on the car, and as you can see, he was kind enough to do so. I have also got the original plates from 1969.
After the arrival of The Hugger to Sweden, I´ve made some updates on the wheels & rims, riding height adjustments, paint polishing and other finish work and detailing. The car is now registrated and inspected by Swedish authorities! 
Finally, I would like to thank Anders at www.door2door.se/ for helping me bringing the car to Sweden, and all the guys on the Camaro Club web site, www.camaroclubsweden.com/ for tips and advice. I would also like to thank Mats here in Umeå for many of the great photos on this site and the inspiration. You can read more about this car at Mats site www.thetwins.info.se . Another guy that deserves a bunch of cred is my Camaro friend Ola in Falun, Sweden. He helped me a lot the first two winter seasons witg good advice and a very helpful hand!
Technical specifications: 
The car was originally an X44 with 72/72 colors and the 713 Custom Interior and Special Interior Group with rosewood trim. It has the center console, TH350 and Air spoiler equipment, all probably original to the car but I can´t prove it! As the car is a 12437 code, it was equipped with a V8 from start, but that engine is long gone. This is how the car is equipped today: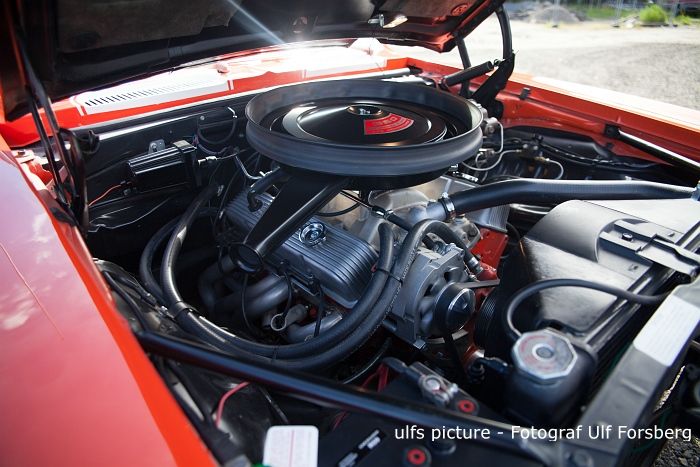 Engine and transmission:
 – 350, bored to 355 cci. (0.03″ oversize)
 – Forged rods and pistons
 – Edelbrock Performance RPM aluminum intake
 – Holley 750 CFM specially adjusted to the engine
 – Performance cam
 – 1.6 roller rockers
 – High volume oil pump
 – Hedman headers, HTC coated
 – Old classic aluminum valve covers from Cal Custom
 – Special Cowl Induction hood air filter with rubber seal
 – ACCEL electronic ignition
 – Billet pulleys
 – TH 350 with shift kit, separate oil cooler and low stall speed
 – 2½" double exhaust with a H-pipe, Flowmaster mufflers and hidden outlets behind the rear wheels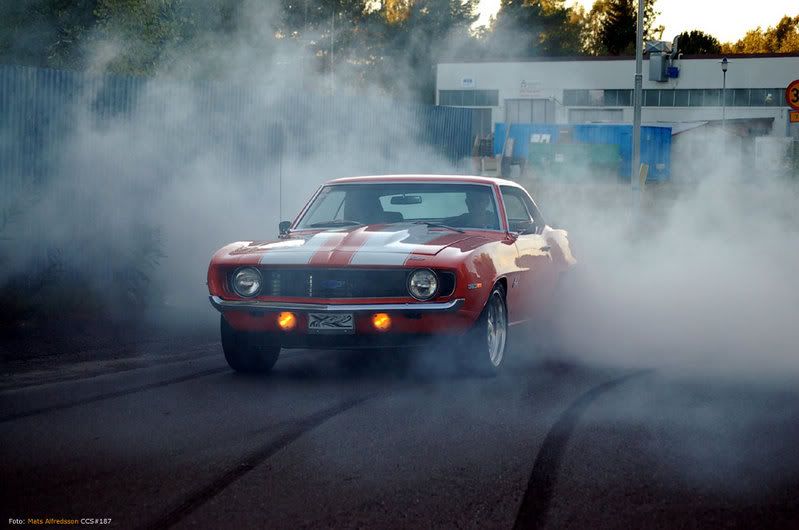 Body and chassis:
 – New paint in the original color, 72 Hugger Orange, with Dover White Z-28 stripes
 – New original grille painted in correct Argent Silver
 – Recromed original bumpers with optional large front and rear bumper guards
 – Original Steel Wheels, 14×6″ front with Good Year Polyglas F70-14 and 14×7″ rear with H70-14
– Also, American Racing 200S, special backspace. 17×9,5″ rear with 255/50-17 tires and 17×8″ in front with 225/50-17 tires.
 – New sheetmetal Cowl Induction hood
 – Stainless power front disc brake kit from SSBC
 – Front suspension rebuilt with PST polygraphite bushings, 1″ sway bar and 2″ dropped lowering springs
 – 12 bolt rear end with PST bushings, Posi Trac, 1″ sway bar, Moser shafts, 4,10 gears and new 2″ dropped Sport leafs from Hotchkis
 – All new brake lines, fuel lines etc.
Interior:
 – Reupholstered in original black/white Houndstooth
 – Original console with new Autometer clock, and volt-, temp- and oil pressure gauges with LED-light bulbs
 – Original seat belts in front and back seats
 – Original optional new tachometer and center fuel gauge
 – New original optional soft grip steering wheel
 – New molded carpet in trunk as original
 – New trunk light as original
 – New spare wheel in trunk
 – New original Posi traction and jacking instruction decals